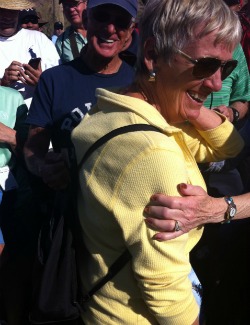 Lee Westwood's drive ends up in a tough spot. (Twitter)
By Shane Bacon
A lot of the game of golf revolves around where your ball ends up. It could be in a bunker, a cactus, a divot or in the hole.
For Lee Westwood in his semifinals match against Rory McIlroy, one of his drives was very, very unplayable. On the 13th hole, Westwood missed his tee shot left, only to find it in the sweater of a fan watching the action.
The photo to your right, taken by the AP's Doug Ferguson, shows just what kind of shot Westwood faced when he walked up to his ball.
Westwood's caddied joked to the lady, "Would you mind walking 250 yards further" before getting a drop and making a par which lost him to the hole to McIlroy, but one fan will always have the memory of how the heck a golf ball ended up in her sweater.

For more golf news, rumors and analysis, follow Shane Bacon and Eye On Golf on Twitter.