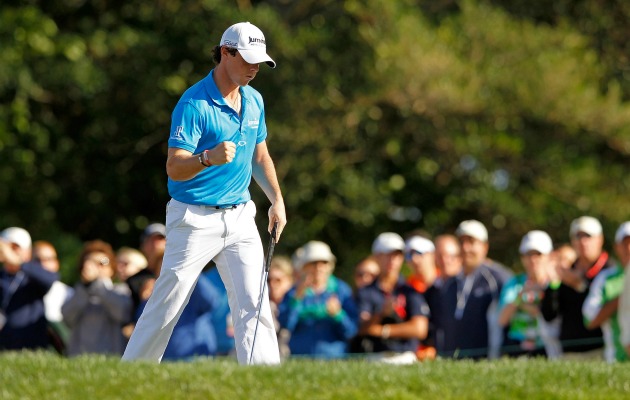 Rory McIlroy reacts after his final putt drops at the Honda Classic. (Getty Images)
By Shane Bacon

Golf is probably the hardest sport in the world to play, and play well, so it makes total sense that everyone is a critic, and that's what we're going to do here at Monday Morning Swing Coach. Cover just the PGA Tour? Nope. We're going to try to expand this Monday feature to anything and everything that happened the past weekend.

Rory and Tiger most impressive at closing
A lot of things will be made about what happened on Sunday at the Honda Classic. Tiger Woods' charge up the leaderboard. Rory McIlroy winning and becoming No. 1 in the world.
But the thing that impressed me the most? How both were able to finish their rounds.
So many times pro golfers will play great until the end, see what they are doing, and lose focus. You saw that with Brian Harman on Friday, when a holed bunker shot would have landed him in the 59 club, but instead of making the shot, he hit it three feet and then missed the putt for a 60. Sure, 61 is great, but that focus was lost for a second and a shot was dropped that would have allowed him his first top-10 finish on the PGA Tour.
Tiger has been struggling mightily in recent events he was in contention in with actually closing the round. The tournament that comes to mind first was the Masters a year ago, when Tiger made a run early in his round only to struggle on the holes he usually dominates.
Not this Sunday. Tiger put together a fantastic round in swirling winds, and finished it with a birdie-eagle finish.
McIlroy was no different. His scrambling and bunker play on Sunday reminded me of Retief Goosen back in 2001 at Southern Hills, but Rory kept missing his golf shots in the right spots, and kept hitting unbelievable chip shots in short range of the cup to give him chances at par, which he converted.
The comparisons of Tiger and Rory are plentiful after Sunday, but the thing that Woods used to do that separated himself from the pack was play well with a lead, and Rory did just that on Sunday, closing his round out with solid pars when he knew that was all he needed. A less steady McIlroy might have let the Tiger charge ruin him. The new Rory didn't, and his ability to make the important putts down the stretch allowed him to breeze up the 18th hole with a two-shot lead and an easy run at par and the win.
A confidence boost week
There are so many names that will be looking back at the Honda Classic with positive thoughts.
The easy ones are Rory and Tiger, both using this week as a springboard for the rest of the season, but look down the leaderboard and see all the big names that played well at the Champions Course.
Tom Gillis almost quit golf at one point, but played steady all week, even in the final round, and made a clutch birdie on the last hole to tie for second with Tiger and earn some serious dough he can put towards his 2013 card.
Lee Westwood was paired with Woods early in the week, and while Tiger always outshines the rest of the field, we shouldn't forget that Lee fired a final round 63 before Tiger finished to jump 23 spots for a fourth place finish alone.
And then comes Rickie Fowler. I had a discussion early in the week about the state of Fowler's game and we decided the kid was regressing and maybe needed a swing change to get to more consistent.
Maybe I was completely wrong. Rickie shot 66 on Sunday for his first top-10 finish of the season and showed he isn't completely lost out there.
The Nationwide Tour's U.S. Open?
This past weekend, the Nationwide Tour headed to Panama City for an event at the Panama Golf Club, and I'm just going to toss this out there; you might want to avoid that golf course if you want to keep your pride in tact.
The winning score was 4-under, courtesy of Edward Loar, but he shot a final round 74 to win the event and only six players all week finished in red figures.
Check out the new Eye on Golf Facebook page and follow Shane Bacon and Eye On Golf on Twitter.